Easy to build event apps
Build your app in minutes for your event or venue
Create your own custom branded mobile app in just a few minutes with PromoTix for your upcoming events. It really is that easy:
Your brand in the app store
Single or multi-event templates
Send push notifications
Engage more customers
Sell more tickets!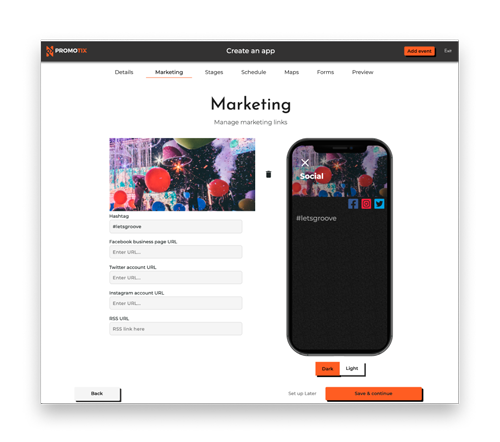 Venue mobile apps
Perfect for venues with multiple events
Re-engage your customers time and time again with special bar offers for the night, new upcoming show announcements, and allow them to purchase tickets and create a list of upcoming shows they want to attend, right in the app.
Promote multiple upcoming shows
Send drink offers
Take VIP or bottle service reservations
Sell more tickets!
Festival mobile apps
Perfect for multi-stage and multi-day festivals
Re-use your app annually to re-engage those who downloaded it the year before, bringing them back to purchase tickets every year. Announce your lineup and stage/set times to allow your attendees to build their schedule.
Re-engage last year's attendees
Include your map
Announce your lineup
List set and stage times for attendees
Sell more tickets!
Single event mobile apps
Perfect for one off events
Promote your concert, convention, festival, health and wellness, fair, or any other event you can think of with its own branded mobile app in the Apple and Android app stores.
Collect leads and registrations
Inform attendees of the schedule
Send special offers and announcements
Include a map
Sell more tickets!
Multi event mobile apps
Perfect for the independent promoter
Build a brand for your promotions company and start engaging with your attendees and customers through your very own branded app. Announce all your shows no matter where their location is, and allow attendees to start building their list and buying tickets to the upcoming events they want to attend.
Announce your shows with push notifications
Let attendees build a list of upcoming events
Take vip and bottle service reservations for club shows
Sell more tickets!
* You can create multiple mobile applications within your account and launch them directly to the iOS and Google Play app stores for both Apple and Android devices. Monthly fees are per mobile application you build but include both Android and iOS versions. Fees are continuously billed monthly while your app is live in the app stores. You can cancel de-activate your mobile app at any time, and you will no longer be billed. Initial one-time app store submission and setup fees of $400 are not included in the monthly fee amount. Complete pricing found here.